Warning and Disclaimer
The Blue Room Electrical & Power Forum, and the equivalent sections of the wiki, are provided for the informal description and discussion of electrical and power-related technical production matters. No warranty is implied concerning the accuracy of any information contained therein. The administrators of this site can accept no responsibility for any inaccuracy of information in the Electrical and Power Forum or wiki, or for any loss, damage or injury arising from any interpretation of its contents. Opinions expressed are not necessarily those of the site administrators. If in doubt, consult a qualified professional.
Three phase power systems are made up of three distinct sets of power waveforms set 120 degrees (one third of a cycle) apart from each other. In the UK, the frequency is 50Hz, and standard low voltage distribution is 400V nominal (was 415V). Note that the term low voltage here does not mean that it is safe to touch in any way!!
Single Phase systems require two wires for one phase. Three phase balanced systems (no neutral, Delta) require only three wires for three phases, three phase un-balanced systems (3P+Neutral, Star) require only four wires for three phases. In each case distribution of three phase power is more efficient than single phase (as it requires fewer wires per phase).
For a given power a three phase motor can be a lot smaller, have a greater starting torque and can apply a lot more force before stalling than a single phase one. As a result a lot of motors such as those found in hoists will be three phase.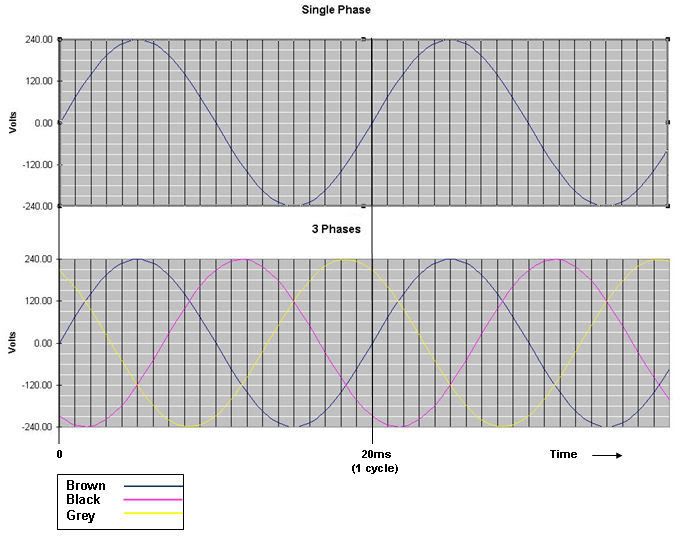 Star (a.k.a. Wye)
Delta
Colour Coding
The pictures above show the old UK colour coding system for fixed installations. Between 2004 and 2006, the IEE led a transitional period to new harmonised colours for fixed installations throughout Europe:
Circuit
Old Colour
(British)
New Colour
(Harmonised)
Live 1
Red
Brown
Live 2
Yellow
Black
Live 3
Blue
Grey
Neutral
Black
Blue
Earth
Green & Yellow
Green & Yellow
See Also
External Links